Influencer
Top Food Influencers in Bristol – Top Food Influencers, Instagrammers and Bloggers based in Bristol
In a world where people are constantly on the move, it's important to make sure you're getting your money's worth when eating out or traveling. Luckily for visitors of Bristol and even locals, there is an abundance of bloggers who have found inspiration in this beautiful city and share their knowledge with others via blogging platforms like Instagram or other social media sites! Here we've compiled a list featuring some of the top food Influencers in Bristol, offering up advice about not only what food and restaurants are worth trying out but also which places and activities could become highlights of any trip.
There are many reasons why Bristol should be on your list when considering the best cities in the UK. It's got breathtaking beauty and spectacular landscapes, as well an intriguing history with plenty of cultures to offer anyone who visits or lives there! But what really makes this place great? While all these reasons are very true, Bristol has an unbeatable food and drink scene! Thanks to all its restaurants serving up delectable food options and food influencers in Bristol, one can't go wrong by giving their taste buds something new in this city.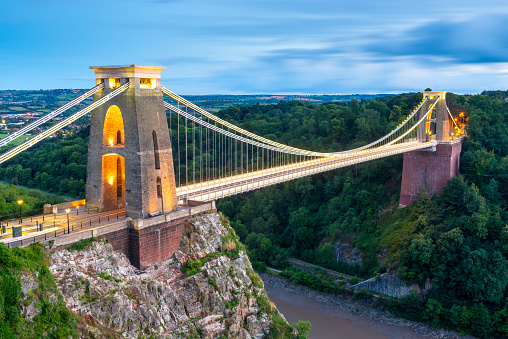 The foodie scene in Bristol represents a thriving community where fresh and seasonal produce is used to create more delicious and healthier meals, which supports local farmers, too! So many great restaurants offer everything from comfort classics or international cuisine with vegan options as well, and these food Influencers in Bristol know precisely the best spots around town when you want fantastic tastes at every turn of your fork!

Top Food Influencers in Bristol to Watch
Cherine is the creator of @bristol_foodie, an Instagram account that documents her culinary adventures as she eats and drinks around Bristol. She's originally from Hong Kong but now lives in England, where COVID has made it difficult for indie businesses to continue thriving due to the constant uncertainties that come with it. Since then, Cherin set out on a mission to help these struggling businesses by sharing information about them and putting them under the public attention.
Though her time is mostly dedicated to helping independent businesses, Cherine still regularly goes out for a good meal and review. In addition, she keeps up with food trends through Instagram posts as much as possible so that her 18 thousand followers can easily find their next favorite on her page.
Food is said to bring people together, and the creators of the Instagram page @bristolfoodpoorn are well aware of it. Join them on their journey through Bristol as they eat, drink and rate everything from coffee shops to restaurants. They're always up for an adventure, and they'll show you the best of what Bristol has to offer. If you also enjoy experimenting with new foods, you may get a taste of what adventures await you in Bristol by joining the over 3 thousand people who follow Bristol Food Porn on Instagram and explore the city's distinctive cuisines!
Foodstuff is a delivery service that delivers from some of the best independent restaurants in town to local foodies. They're committed and passionate about finding great small businesses so you can order your favorite dishes quickly and easily. The company has helped establish indie businesses and contributed positively to the community through its innovative services. With nearly 11 thousand followers on their Instagram page @foodstuffbris, Foodstuff often shares the newest local places to eat and guides that will make your dining out experience even easier than before.
The Instagram page @juicyy.bite is your guide to the best places in Bristol and Cheltenham for a tasty bite of something new! They are currently exploring Cotswolds one mouthwatering foodie experience at a time with beautiful photos from their adventures that you can't miss out on. The Instagram page has over 5 thousand followers waiting patiently for their next delicious food recommendations, so they discover the best options before planning their next culinary adventure.
Marie is an adventurous 24-year old food blogger who loves to explore new cuisine on her Instagram page @wanderlustfood_ and has gathered over 6 thousand followers with detailed reviews of each dish she eats. Her witty commentary makes it straightforward for anyone looking at the pictures or reading the captions to see what ingredients were used in preparing the dishes, making it easier for them to find a meal they will love.
When you follow Jason Smith on his Instagram page @bristolian_foodie, it's not long before his love of all things food shines through. He documents every step in the process, from watching cooking shows to collecting recipes books and creating new ones himself using locally sourced ingredients whenever possible. Jason is also a craft beer enthusiast, and you'll most likely find him chatting about his passion with his over 5 thousand followers who are patiently anticipating Jason's next creation and culinary adventure.
The Instagram account @bristolfooddiaries is a haven for plant-based eaters with pictures and reviews of simple yet delicious meals. The two vegetarian girls behind this Instagram page are eating their way through Bristol, reviewing everything from restaurants that offer veggie options to cafes where you can find the most delicious desserts! They have over 2,000 followers who are constantly on the lookout for their latest recommendations on where to eat the next mouthwatering vegetarian dish.
Grace's Instagram blog @gtfoodpics is a one-of-a-kind page for anyone with an appreciation of great food! From her hometown in Cheltenham to London, Bristol, and even beyond, she posts pictures that make you want to travel there right away and try the dishes. With over 4 thousand followers, the account has become a unique feed for anyone with a passion for great eats!
Give your feed a boost with @bristolfoodfans! The Instagram page is an insider's tip for the best foodie spots in Bristol, UK. With over 2 thousand followers and tons of pictures to drool over from around town, it will be hard not finding the perfect guide to direct your taste buds towards their next favorite restaurant or drink destination.
If you're looking for some delicious and unique food to spice up your feed, look no further than BRISTOLLYUMYUMS (@bristolyumyum), which is your go-to food blogger when you're craving some delicious dishes. With over 1 thousand followers on Instagram, they will surely find the perfect dish for any appetite and taste buds! The page offers reviews alongside scenic photos that make mouths water with anticipation as soon as viewed!
It's not often you come across a page that can make you crave breakfast food at any time of day, but the Instagram account @bristolbrunchreview does just that! With posts documenting one man's quest to find the best brunch in town, it is quickly becoming a favorite on social media for many food lovers. The account was created in 2021 and currently boasts over 200 followers; however, with all their elaborate reviews, we can surely look forward to more great posts coming from them in the future!
Interested in learning more about more food bloggers in other cities? Check out our series below

United States

Australia

United Kingdom
China
Canada