Influencer
Top Food Influencers in Manchester- Food Influencers, Instagrammers and Bloggers based in Manchester
We've selected the top food influencers in Manchester. Discover who they are, what key topics they discuss and how to connect with them online.
Manchester is the most populated city in the northwest of England, giving rise to increased industrialization and economic power. In turn, food influencers in Manchester have been able to create intriguing content and draw footfall into the city's local businesses. To discuss this industry in more depth, here are NetInfluencer's top food influencers in Manchester.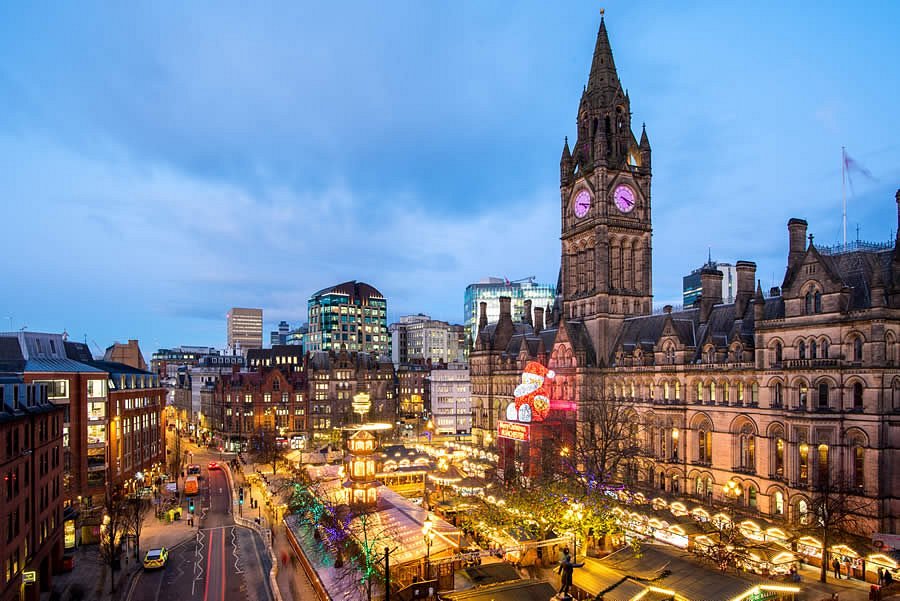 Top Food Influencers in Manchester To Watch Out For
eatmcr is a spectacular hub that focuses on the assortment of food and drinks options in Manchester. This account is run by three influencers in Manchester known as GooeyCo, eatmcr vegan, and arlosmcr. With 228,000 followers and nearly 3,000 posts, eatmcr shows off the different characters of Manchester and gives every restaurant the chance to show off its unique personality. The team recommends many cultural dishes such as the roasted meats with BBQ sauce from the very popular Pho Cue.
This account draws attention to Manchester's lively entertainment scene, including the city's collection of independent restaurants. As such, they created guides such as 'Manchester's best lockdown curry deliveries and takeaways'. This helped mcrfinest earn an incredible 181,000 followers. They also post engaging videos that set out to educate locals and visitors on Manchester's nightlife. This influencer enjoys promoting restaurants such as Feel Good Club, a vegan restaurant that serves dishes such as vegan shoyu ramen.
secretmanchester hosts a variety of content that helps to promote all of the incredible events occurring in Manchester. This includes entertainment news such as filming locations in Manchester as well as developments in the city's food scene. This influencer is most known for their blog which goes into more detail about all of the new bars and restaurants that are coming to Manchester. It has become a very active account amassing nearly 98,000 followers and over 1500 posts. The page welcomes new establishments, such as Jollibee, an Asian fried chicken restaurant, opening in Market Street.
mcrconfidental aims to give locals the best deals on some of Manchester's most popular entertainment venues. In turn, the page has earned a very devoted following of nearly 50,000 followers. The account has shared dishes such as fried scallops from Bull and Bear. This is a high-end restaurant owned by celebrity chef Tom Kerridge. This influencer is dedicated to sharing more information about the Manchester food scene, seen by his 5,000 Instagram posts.
This account is associated with The Manc, a platform that discusses cultural developments and current affairs occurring in Manchester. themanceats is specifically dedicated to the city's food scene and displays everything it has to offer. This page has welcomed a wave of 83.7K followers, making it a very successful account within Manchester. Their posts contain a selection of immense dishes such as the rich and tasty jerk chicken wings from Jerk Junction.
In 2021, Manchester had a Muslim population of around 15.8%. This means that the demand for halal food has increased dramatically. halaldiningmcr focuses on finding the best halal dishes in Manchester for the best price. This influencer also runs an intuitive blog where they offer a wide variety of additional discounts to their 39.3K followers. haladiningmcr proves that some of the most incredible dishes can be halal, such as the loaded triple cheeseburger and cheese-covered fries from The Sweet Diner.
foodshak is owned by a local photographer and videographer, giving him the opportunity to earn nearly 30,000 followers on Instagram alone. This influencer loves posting pictures of people diving into their meals and never missing a single bite. foodshak is a very talented content creator, using a variety of lighting effects and angles to get the best shot of a variety of worldwide dishes. For example, his post of the moreish bao buns from Wowyacho earned him 449 likes.
eatinmcr is a developing page with just over 25,000 followers. They are known for sharing unconventional food options from some of the smaller restaurants in Manchester. A prime example is the Boohoo Man meal, which consists of buttermilk fried chicken and freshly cut lettuce, all encased in a blue sesame seed bun. This meal is very rare as it was considered to be a one-off promotional item from Boohoo Man in collaboration with Archie's.
manchester.foodie is an account run by three food fanatics, a meat-eater, a vegan, and a vegetarian. Collating over 14,000 followers, these friends enjoy a selection of incredible mains and desserts such as the vegan fried chicken burger from Wholesome Junkies and the pastel de natas from Sunrise Patisserie.
This account is owned by Becci Bailey, a devoted foodie, who enjoys documenting the wide selection of food and drinks options in her city. She also uses Cookbookly, a platform aimed at budding chefs, to share her irresistible recipes for her 13.6K followers to try at home. mcr.foodie often shares food from the city's world-famous market stalls such as the exquisite ice creams found at Jersey Girls Ice Cream.
foodjunkie_uk was created by Sam, a Taiwanese food lover currently living in Manchester. Sam uses both her blog and her Instagram page to display her favourite dishes and personal recipes for her 14.6K followers. foodjunkie_uk does not shy away from some unusual, yet very traditional northern England treats. She has praised the Wigan kebab from Holland Pies UK, a meat pie, served with mushy peas all in a white bread roll.
Kaz is an honest and well-regarded content creator, who shares her cooking inspirations from her home in Manchester. Alongside her adorable pug, somebodyfeedkaz travels up and down the city to try and find some of the best food offerings in Manchester. She expertly reviews dishes such as haggis bites and the bacon cheeseburger from Burgers and Beers. With just 10,000 followers, Kaz is quickly building a devoted fan base and is becoming a popular influencer in Manchester.
This account is owned by Trisha, a popular contributor on Food Tryb, an exciting platform that allows users to write and share their favourite recipes. eatwithtrisha produces expertly crafted videos as a way to educate her 8493 followers on where to get the best food. For example, her video 'Where To Find Hidden Burger Spots in Manchester' has 423 likes. eatwithtrish also offers her opinion on some of the local restaurants such as The Crown, where she tasted the indulgent whipped goat's cheese with toasted pear.
manchesterfoodreviewer pushes away from the traditional photo content used on Instagram and uses the platform to create high-quality video content. Along with their TikTok, they create videos showcasing a variety of incredible dishes, all being created within Manchester. Their videos help to showcase a wide variety of food options, such as the colourful sushi from Rainbow Soup. Even with just 18 posts and 7545 followers, manchesterfoodreviewer is already proving to be a successful content creator.
Jess considers herself to be a true foodie at heart, highlighting the expansive food options found across Manchester. justjesseating also creates food content in other cities such as Exeter and Bath. She is often seen diving into delicious desserts such as the irresistible chocolate praline cremeaux from the Cross Guns Inn. Jess also posts some of her own recipes for her 6584 followers to enjoy.
With nearly 3,000 followers, mcrfoodieguy uses Instagram to share his love of baked goods. Although they only have 126 posts, mcrfoodieguy is constantly growing and developing its content, placing them at the same standard as some of the most popular food influencers in Manchester. This influencer praises restaurants such as Elle Slater Food for their rich honey-infused cornbread and also praises a variety of local takeaways for their accessible food options.
As Manchester continues to grow into a populous metropolis, its food scene is likely to expand. This offers a chance for the city to build its own unique range of food influencers in Manchester.