Strategy
How to Find Social Media Influencers for Your Brand
Influencer marketing continues to evolve with the popularity of social media platforms. Finding the right social media influencer can effectively expand your business' reach among potential consumers. Influencers can be easily located with free tools, specific keywords, and a little research.
INFLUENCER MARKETING STRATEGY
Social media influencers are a growing marketing strategy for both large and small businesses alike. Digital marketing continues to change as new social media platforms emerge and different trends take over. The right social media influencer can help to expand your audience of potential consumers by building trust for your brand.
Social media influencers are a great way to gain large audiences, drive sales, and create brand awareness. In this article, you will discover what a social media influencer is, how to easily find social media influencers, and some of the top influencers for 2022 by industry.
WHAT IS A SOCIAL MEDIA INFLUENCER
In its simplest form, the definition for a social media influencer is someone who informs, inspires, and influences consumer buying decisions through a loyal audience of followers. Social media influencers are personalities that create content that connects with their followers through a social media channel. Their influence on followers can shape opinions and drive engagement within industries for online audiences. A social media influencer's opinion is one that is valued by their social following.
Social media influencers are categorized in various ways. They are defined by their follower count (micro-and macro-influencers), their channel (Instagram, Youtube, Snapchat, Facebook, Twitch, and bloggers), and also by their industry (gaming, fashion & beauty, travel, health & wellness).
According to Businesswire, an estimated 61% of consumers trust recommendations made by influencers. And Inmar reports, 84% of consumers have made a purchase because of influencer recommendations. The U.S. Chamber of Commerce states that influencer marketing has grown 42% in the past year, making it increasingly relevant and valuable to brands.
You can see how social media influencers are important to business marketing campaigns. Not only do influencers have a significant audience that follows them, but they also have credibility making the conversion to a consumer of your product an easy transition.
HOW TO FIND SOCIAL MEDIA INFLUENCERS FOR YOUR BRAND
You may see finding a social media influencer for your brand as a challenge. Especially if you are just starting an influencer marketing strategy. It's not as hard of a task as you may think. Here are 5 simple ways that you can begin to identify social media influencers to market your brand.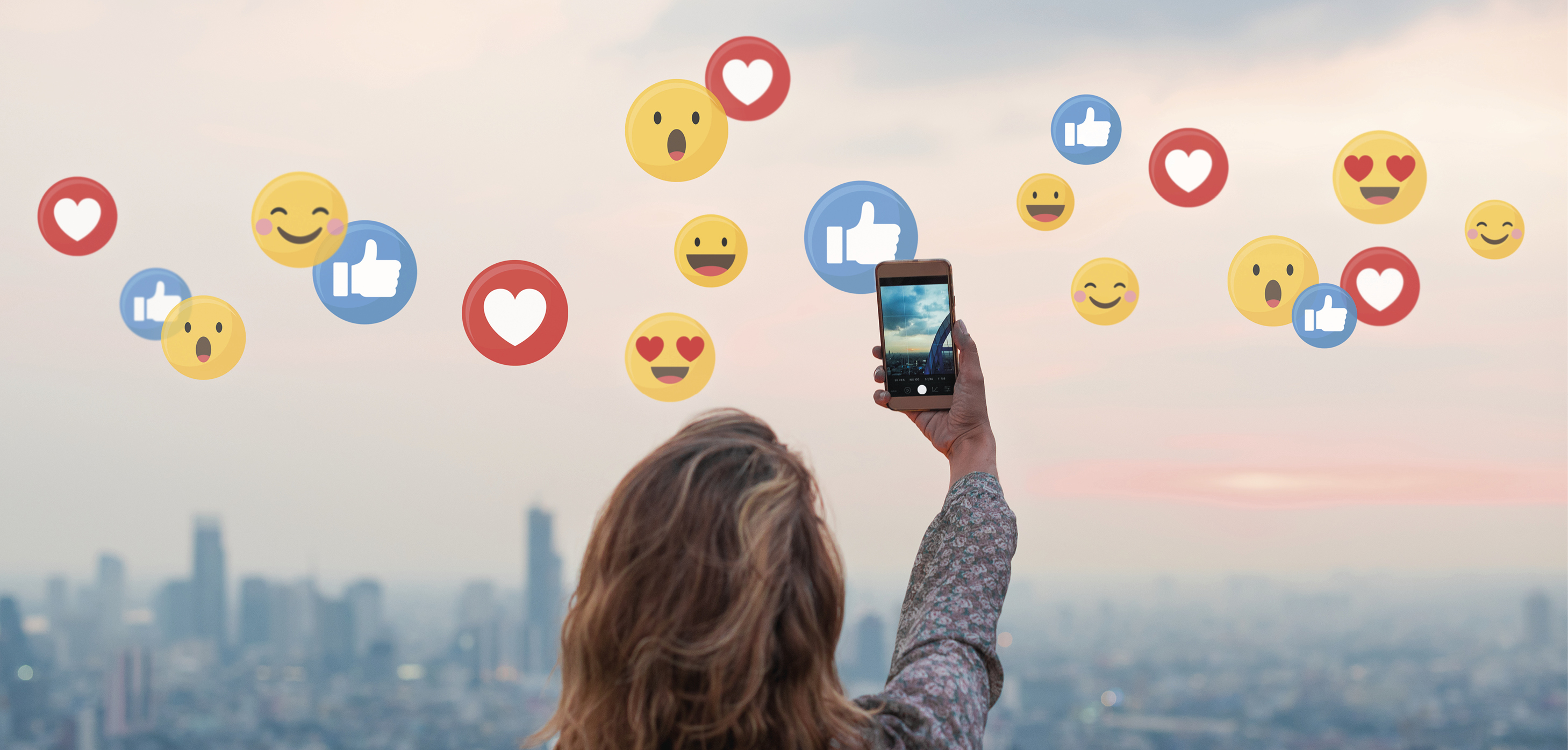 CONDUCT A HASHTAG SEARCH
One of the easiest ways to find social media influencers for your brand is by conducting a hashtag search. You can use your business' Instagram page to see who is already posting about your brand. Another use of hashtags is to determine who is posting about brands in your industry. It's important to follow relevant hashtags to stay on top of content and trends.
USE FREE INFLUENCER IDENTIFICATION TOOLS
An effective way to locate influencers is through influencer tools and databases. There are a variety of free tools that assist in identifying social media influencers.
Some tools to check out are:
This influencer platform contains a large database of influencer profiles. The database allows a client to quickly research influencers through the use of keywords.
Upfluence also has a free Chrome plugin allowing you to review profiles from your own browser. It also works with other networks like Instagram, YouTube, and Pinterest.

This platform is effective for finding influencers for your brand in two ways. First, a brand looking for an influencer can quickly search for ratings, credibility scores, and reviews of influencers.
A brand can post a campaign to the platform and Post for Rent will notify influencers if they meet the criteria. The business can click on influencers selecting them to a list. Second, an influencer wanting to work with a brand can see the rating for a brand and determine if it's a good fit for them.
HypeAuditor is a database tool that ranks influencers by the quality of followers and engagement. A user of this platform can select niches and categories to streamline the selection process.
The rankings are updated daily giving a current list of top influencers. By clicking on an influencer profile, you can view current ranking, Instagram username, main topics they post about, demographic of followers, number of followers they have, and an estimate of authentic engagement.
USE GOOGLE EFFECTIVELY
Google searches can be a great resource for social media influencers if done correctly. Start the search process by building a list of keywords that highlight your brand. Using specific search criteria will narrow the results making it easier to find your influencer. You also want to add "site:Instagram.com" before the keywords to ensure you're searching only your industry on Instagram.
Google's search engine can be used to find bloggers within your industry as well. Using the keyword list, narrow your search by adding the word "blogger" to the end of the search query. Once you have found an influencer you are interested in, scan their blog page for social media links. Most bloggers will have the links posted in several places
LINKEDIN SEARCH
Your personal LinkedIn page can be used to find social media influencers for your brand. Plus, it adds an air of professionalism! LinkedIn allows you to refine your search within industries and filter people by searching for a "content creator" or "blogger". Once you have found the right person, send them a LinkedIn message.
ASK FOR RECOMMENDATIONS
Find social media influencers by asking for recommendations. If you are already working with an influencer, ask them for recommendations for other influencers they know that have a similar following and target audience. Influencers are aware of who is also marketing within their industry.
You can also look to fellow marketers in your niche. If you have a rapport with other marketers, ask for a recommendation. Your marketing network may have just the person you are looking for.
TOP SOCIAL MEDIA INFLUENCERS FOR 2022
The top social media influencers of 2022 will depend on the niche you are looking to reach. Here are a few current leading social media influencers in the industries.
Tim is an automotive vlogger. Shmee150 is Tim's personal brand and was started in 2010. Burton travels the world seeking the most exclusive automotive content and captures it for his large audience of subscribers and followers.
Youtube subscribers: 2.31 M
Instagram followers: 1.5M
Huda is a makeup artist and blogger. She has created her own cosmetics line called Huda Beauty and is the founder of @wishfulskin. She started her blog in 2010 after quitting her career in finance. Huda Beauty was formed in 2013 with her two sisters and sells more than 140 products.
Youtube subscribers: 4.1 M
Instagram followers: 49.6 M
Chiara is a fashion blogger, model, and entrepreneur. Chiara has a clothing collection and a series on Amazon. Her blog The Blonde Salad has collaborated with several beauty and fashion brands. She was ranked Forbes "Top Fashion Influencer" in 2017.
Facebook followers: 1.2 M
Instagram followers: 26 M
Jamie is a chef, restaurateur and TV host. Oliver has an app for exclusive weekly recipes, a weekly shopping list, and meal planner. He also sells a few products on Amazon like granola dust and cookbooks. He connects with his audience through a website, cookbook club, and private Facebook group.
Facebook followers: 8.9 M
Instagram followers: 8.7 M
FINAL THOUGHTS
Finding social media influencers for your brand is relatively simple with a few tools and effective searches. However, the key to finding a social media influencer that will benefit your brand is in the quality of followers, engagement of the audience, and content they produce for promotion. By utilizing the right influencer as part of your marketing strategy, followers are more likely to trust your product and engage with your brand in a positive way that will result in sales.
Karina Gandola
Karina Gandola was born and raised outside the city of Charleston, in the beautiful mountain state of West Virginia. Karina loves writing about the influencer marketing space and an area she is passionate about. She considers her faith and family to be most important to her. If she isn't spending time with her friends and family, you can almost always find her around her sweet yellow Labrador retriever, Poshna.